We Beat Bloomberg's Millions!
November 6, 2020
I am amazed at the dedication and commitment that grassroots gun owners and Second Amendment activists have shown over the last several months.
Despite spending $100 MILLION in Florida, Michael Bloomberg is walking away knowing that Floridians don't want his gun control.
Thanks to your hard work, we are changing the anti-gun culture in Tallahassee.
Politicians are realizing it is not enough to simply espouse pro-gun rhetoric during election season.
They must actively support our gun rights and work to defend them!
As part of our efforts to make this point to lawmakers, your Florida Gun Rights launched a massive campaign to expose anti-gun politicians and mobilize gun owners to lobby them.
We sent tens of thousands of pieces of mail, sent hundreds of thousands of emails, sent thousands of text messages, made thousands of phone calls, and ran hard-hitting ads in key districts across the state.
And this massive effort to mobilize gun owners paid off!
While some anti-gun politicians like Jason Brodeur and Randy Fine were reelected, they heard the loud-and-clear message: KEEP YOUR HANDS OFF OUR GUN RIGHTS!
But it gets even better.
Sixteen politicians who returned their FLGR Candidate Survey pro-gun were elected to the State Legislature this week!
Our affiliated PAC actively worked to support politicians who have proven to be avid defenders of our Second Amendment rights or who have shown tremendous potential to do so.
In House District 27, Republican Webster Barnaby returned his Florida Gun Rights Candidate Survey 100% pro-gun in stark contrast to his Bloomberg-backed opponent Dolores Guzman.
Guzman openly campaigned on an anti-gun platform, vowing to strip us of our rights at every turn, which clearly was not a good message for voters in district 27.
Webster Barnaby won his race with 56% of the vote!
State Representative Anthony Sabatini in HD 32 won his reelection with massive margins, defeating Democrat Stephanie Dukes with 55.8% of the vote.
Rep. Sabatini has been a staunch defender of our rights in Tallahassee and is the first lawmaker to ever file Constitutional Carry legislation in Florida history.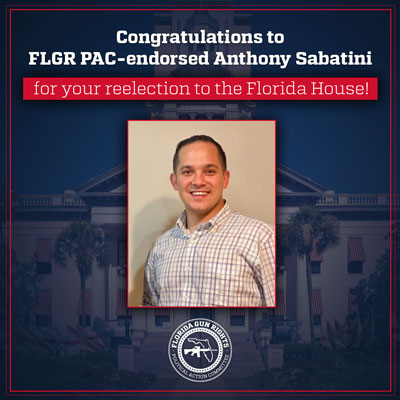 Clearly, gun owners around the state are working hard to change the anti-gun status quo in Tallahassee.
But as we wind down from one of the craziest election cycles I've seen, please keep in mind the enormous battle ahead of us.
The election season is only one part of our overall fight.
The legislative season is when the damage to our freedoms happens, and we must actively work to hold our elected officials to the promises they made during the election.
I'm humbled by your commitment to our rights.
For Freedom,