Who is Attacking Gun Owners?
July 31, 2020
Here we go again.
Marion Hammer, who collects fat lobbying checks while coddling politicians, is desperately trying to provide cover for anti-gun Republicans in Tallahassee.
You see, Florida Gun Rights is mobilizing our members with a hard-hitting campaign, calling out her pals like State Rep. Randy Fine and Thad Altman who voted for "Red Flag" Gun Confiscation in 2018.
In response, Hammer is lashing out in an attempt to discredit us and protect her anti-gun friends in the legislature.
Back in 2018, the vast majority of Republican lawmakers in Tallahassee caved to the demands of the anti-gun Left and passed the largest gun control expansion in Florida history.
Since that decisive vote, nearly 4,000 petitions have been filed to take away someone's guns without due process.
Additionally, nearly one million military-aged adults were banned from purchasing long guns.
And the blame for this gun control lies squarely on the shoulders of the 67 NRA "A"-rated Republicans who voted for it and the NRA "A+"-rated Governor who signed it into law.
You read that right.
For years, Marion Hammer has been giving inflated ratings to her pals in Tallahassee.
And those very people are the ones who voted to take away the rights of law-abiding Floridians.
Clearly, Hammer's cozy relationship with the political class has done NOTHING to protect our God-given right to bear arms.
In fact, that's EXACLTY why Republicans felt they could pass gun control — they knew she wouldn't risk her access to the politicians by calling them out for their anti-gun actions.
When Randy Fine, Thad Altman, and the dozens of other Republicans voted for gun control, they did so knowing Marion Hammer would defend them.
And that is exactly what is happening.
Marion Hammer has done little to nothing to hold these anti-gun Republicans accountable while collecting over $1,000,000 in lobbying fees in the past five years alone, according to the Florida Bulldog.
Instead, she is attacking the members and supporters of Florida Gun Rights.
Marion Hammer is lying to gun owners in an attempt to maintain relevance, but the facts are clear.
Under Hammer's "leadership," Republicans in Florida passed the largest gun control in state history.
Under Hammer's "leadership," Republicans who voted for gun control are still given passing grades.
Under Hammer's "leadership," the political establishment retains its power, and grassroots gun owners suffer.
Meanwhile, she collects fat six-figure lobbying payments each and every year.
On the other hand, your Florida Gun Rights is working around the clock to stop further infringements on your rights and to restore the rights we've had stripped from us.
And we don't do that by handing out "A" ratings like candy and endorsing anyone with an "R" behind their name. And we certainly don't pay six-figured, fancy-pants lobbyists to hobnob at the Capitol.
We do that by fighting for real, pro-gun legislation like Constitutional Carry — not by pushing "incremental" reforms and "compromises" that only further endanger our rights.
In fact, FLGR worked with lawmakers to file the first Constitutional Carry bill in Florida history just last year!
While we are fighting to restore your gun rights, Marion Hammer is missing in action.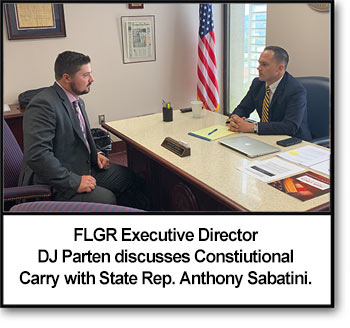 Thanks to the activism of our members, in 2019 we worked with state lawmakers to file legislation to repeal the gun control passed in 2018.
Where was Marion Hammer for this?
Hammer publicly denied any involvement in FLGR's effort to get a repeal bill filed in a post on the NRA-ILA website, saying she "had nothing to do with that bill or any other bill that has been filed so far this session."
And while Marion Hammer was sitting on the sidelines, so-called conservative Senate President Bill Galvano and Senator Tom Lee championed legislation to expand "Red Flag" Gun Confiscation and implement Universal Gun Registration.
But the members and supporters of Florida Gun Rights stood up and demanded no new gun control!
In fact, we delivered nearly 60,000 petitions to the Governor and to lawmakers, demanding those lawmakers oppose this unconstitutional legislation.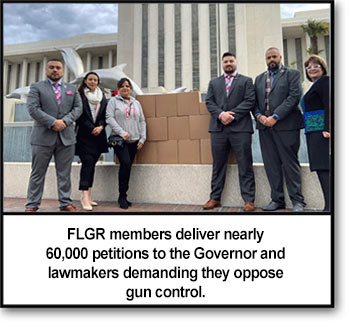 In addition to fighting during the legislative season, we also work during the election season to hold ALL anti-gun politicians accountable — Republicans and Democrats alike.
So while Marion Hammer attacks FLGR and tries to protect the political class, we will continue working for gun owners across Florida to defend and advance our gun rights.
You see, the only way Florida Gun Rights can continue fighting the gun control status quo in Tallahassee is with the support of good people like you.
Mailing gun owners in key districts across the state is not cheap.
And neither is our aggressive online and phone programs to mobilize gun owners in support of their rights.
After all, we are fighting the war chests of anti-gunners like Michael Bloomberg, as well as those of the anti-gun establishment.
Thank you for the trust you've placed in us.
For Freedom,